Childhood, graduation, marriage: those are pretty much the only times some people celebrate with professional portrait photography. We tell ourselves we don't need them, that we need to lose ten pounds first, that we're too old, that we only need the kid's photos done.

Nowadays most of our photography is done via smart phones, but if you've always hated the way you look when someone else takes your photo, or if you're not satisfied with that gym selfie that looks just like the last one you took, you may be looking for something that captures you the way you really want to be seen.
So, how about a photoshoot with an experienced and professional portrait photographer?

What if I could show you the person who transcends limits and labels, the person other people don't see? Maybe even the one you've forgotten?

What if I could show you a portrait that captures your unique and authentic self?
I invite you to be seen in photos that capture your individual, glorious soul, and create enduring images that will change the way you see yourself.

Your Portrait Photography Experience

Once you've booked your photography session, the process begins with a consultation about your desires for the shoot. We discuss your wardrobe, the location, and any questions you may have. Designing your perfect photoshoot could cover anything from a dark and moody look, to airy and ethereal, to personal branding, and corporate headshots. With the option of a wardrobe change, many people take the opportunity to get a mixture of glamorous portraits as well as professional shots for social media. Whatever you choose, we'll be capturing your very essence on camera.
Owing to the pandemic, complimentary hair and make-up is not currently available, but we encourage you to glam yourself up as much as possible with a trip to a trusted hairdresser or beautician. We'll then go to our chosen locations and start making some magical photos of you. If you're nervous about posing, don't worry, this is one of my superpowers, so rest assured I will guide you in looking confident and radiant.

After Your Photoshoot

The very best photos from the shoot are selected and edited so I can add my own magical recipe to your images. This can take between 7-14 days depending on the time of year.

When the images are ready we'll meet for a reveal session during which you'll be able to view and choose your favourite shots. What you decide to buy is entirely up to you: some people spend £300 while others may spend £3000. À la carte images start at £99 and folio collections begin at £900. However many images you choose is entirely up to you – no hard sell – but you'll have plenty of amazing images to choose from!
Being photographed professionally can be a transformative experience, a massive confidence-boost and a ton of fun. Photographs are precious memories and a legacy for you, your friends, and your family.
Contact me using the form below and tell me
how you want to be photographed!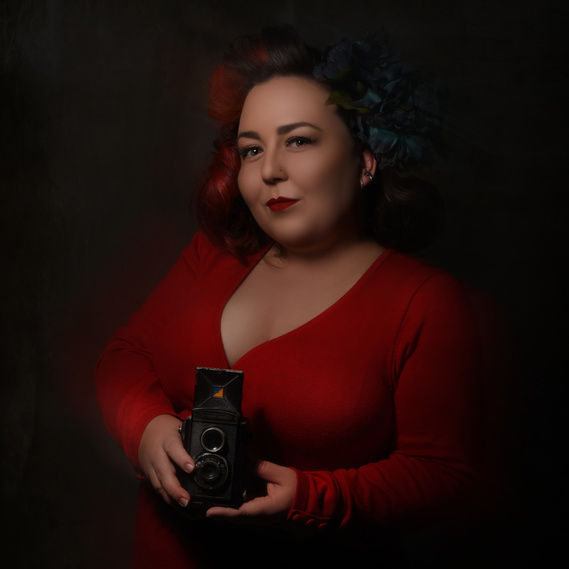 About Laura

Laura is a portrait photographer newly based in Norwich after fourteen years living overseas.

For the last decade Laura has worked as concert photographer in Tokyo, Japan shooting concerts for magazines covering punk, metal and Japanese rock. Laura now focuses on contemporary portraiture and personal branding, bringing her eye for colour and energy from concert photography into the studio.
Her work has been published in magazines in Europe and Japan including Time Out and The Guardian, and featured as cover art for album and DVD covers. She has also been awarded Silver and Bronze in the Portrait Masters awards, Camerapixo magazine and Tokyo International Foto Awards.
Laura is currently working towards becoming a professionally accredited photographer with the Portrait Masters under the mentorship of Sue Bryce.
Photo by Veronika Marx
...I look terrible in photos.

I am here to make you look your very best. Amazing. Fabulous. Splendiferous. I promise you will see some of the best photos you've ever seen of yourself.


...I need to lose some weight.

I will pose and light you to flatter your figure and bring out the superstar you already are.

P.S. I love curves!




...I'm too old.

No such thing. Your natural beauty comes through no matter how many times you've been round the sun.




...I can't afford it.

I accept PayPal credit and offer monthly payment plans. I even have gift vouchers so people can gift you a shoot or images in advance.

There's something for all budgets!

...I only want digital files.

Every print you purchase is accompanied by a digital file.
I also offer digital-only personal branding/headshot packages.

...I'm not a model.

Excellent. I like taking photos of humans in all their wild variety.

No need to worry about what to do in front of the camera. Posing and putting my clients at ease is my superpower!